We present to you an unique investment project that meets the expectations of the most demanding clients. Here you are: Ustronie Apartments.
This modern apartment complex is being built just 20 m away from beach, in a charming environment nestled in the wall of trees area. Ustronie Apartments is a perfect combination of modern architecture with breathtaking inspirational interiors. Here, like nowhere else, you will feel the charm of the seaside town, the breath of sea, the warmth of sand and the smell of pine forest. In four floors, we have created a space for 103 single and double room apartments. Top-floor apartments have mezzanines. From the magnificent living room, you can use a gentle staircase straight to the cozy bedroom. The corner apartments are breathtaking with a direct view on the sea, sunsets and sunrises. On the lowest floor, we create a breakfast restaurant that will enchant you with tasty coffee and warm buns each morning. Ustronie Morskie is a charming seaside town that has fans visiting the area for years, which is why exactly here we create
your place on earth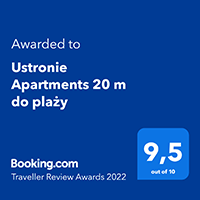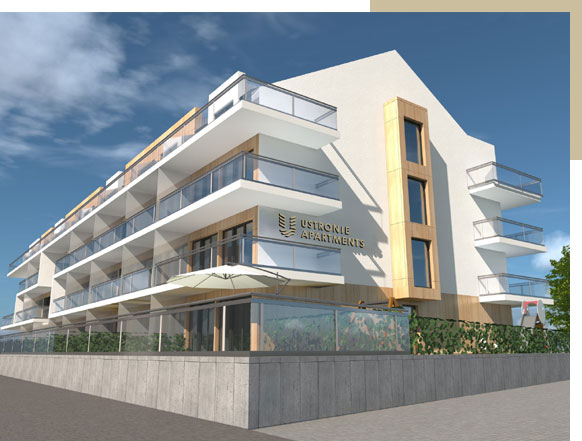 Breathtaking areas
We design this unique facility for a multi-generational family. This is a project that will delight everyone.
Harmonious and ambitious team
We are a team of experts composed of professionals from the real estate, design and contracting industries.
Original cuisine
The offer includes tasty traditional Polish dishes and Mediterranean cuisine, in order to enjoy a variety of flavours and sensations.
We are here to create a place you dream of
We offer enthralled proximity of the sea, the warmth of sand, a day's journey of the sun in the sky, and at night millions of stars in the dark, blue sky.
Unique arrangements that bring a touch of nature, space and freedom
We create flexible spaces, full of purity and bright light, filled with the softness of exceptional fabrics and the smoothness of glaze.
Friendly creation technology for the loved ones
Everything we design, we create thinking of our loved ones, their desires and expectations.
Number
Floor
Type
Number of rooms
Space
Available
Plan

0.1

Ground floor
Deluxe
2
37,31 m2
SOLD
View

0.2

Ground floor
Deluxe
2
37,38 m2
SOLD
View

0.3

Ground floor
Komfort
1
27,46 m2
SOLD
View

0.4

Ground floor
Deluxe
2
37,37 m2
SOLD
View

0.5

Ground floor
Deluxe
2
37,31 m2
SOLD
View

0.6

Ground floor
Komfort
1
35,63 m2
SOLD
View

0.7

Ground floor
Deluxe
2
37,19 m2
SOLD
View

0.8

Ground floor
Deluxe
2
48,66 m2
SOLD
View

0.9

Ground floor
Superior
2
53,06 m2
SOLD
View

0.10

Ground floor
Komfort
1
35,60 m2
SOLD
View

0.11

Ground floor
Deluxe
2
48,67 m2
SOLD
View

0.12

Ground floor
Deluxe
2
37,10 m2
SOLD
View

0.13

Ground floor
Komfort
1
36,02 m2
SOLD
View

0.14

Ground floor
Deluxe
2
37,20 m2
SOLD
View

0.15

Ground floor
Deluxe
2
37,28 m2
SOLD
View

0.16

Ground floor
Komfort
1
27,55 m2
SOLD
View

0.17

Ground floor
Deluxe
2
37,33 m2
SOLD
View

0.18

Ground floor
Superior
2
34,34 m2
SOLD
View

0.19

Ground floor
Deluxe
2
37,26 m2
SOLD
View

0.20

Ground floor
Deluxe
2
47,27 m2
SOLD
View

0.21

Ground floor
Deluxe
2
37,28 m2
SOLD
View

0.22

Ground floor
Komfort
1
34,66 m2
SOLD
View

0.23

Ground floor
Komfort
1
27,20 m2
SOLD
View

0.24

Ground floor
Deluxe
2
37,31 m2
SOLD
View

0.25

Ground floor
Deluxe
2
47,28 m2
SOLD
View

1.1

1
Deluxe
2
37,30 m2
SOLD
View

1.2

1
Deluxe
2
37,38 m2
SOLD
View

1.3

1
Komfort
1
27,46 m2
SOLD
View

1.4

1
Deluxe
2
37,37 m2
SOLD
View

1.5

1
Deluxe
2
37,31 m2
SOLD
View

1.6

1
Komfort
1
35,63 m2
SOLD
View

1.7

1
Deluxe
2
37,19 m2
SOLD
View

1.8

1
Deluxe
2
48,66 m2
SOLD
View

1.9

1
Superior
3
74,96 m2
SOLD
View

1.10

1
Komfort
1
35,62 m2
SOLD
View

1.11

1
Deluxe
2
48,67 m2
SOLD
View

1.12

1
Deluxe
2
37,10 m2
SOLD
View

1.13

1
Komfort
1
36,02 m2
SOLD
View

1.14

1
Deluxe
2
37,25 m2
SOLD
View

1.15

1
Deluxe
2
37,68 m2
SOLD
View

1.16

1
Komfort
1
27,55 m2
SOLD
View

1.17

1
Deluxe
2
37,33 m2
SOLD
View

1.18

1
Superior
2
34,34 m2
SOLD
View

1.19

1
Deluxe
2
37,26 m2
SOLD
View

1.20

1
Deluxe
2
47,29 m2
SOLD
View

1.21

1
Deluxe
2
37,28 m2
SOLD
View

1.22

1
Deluxe
2
46,80 m2
SOLD
View

1.23

1
Deluxe
2
38,03 m2
SOLD
View

1.24

1
Komfort
1
27,30 m2
SOLD
View

1.25

1
Deluxe
2
37,31 m2
SOLD
View

1.26

1
Deluxe
2
47,28 m2
SOLD
View

2.1

2
Deluxe
2
37,30 m2
SOLD
View

2.2

2
Deluxe
2
37,38 m2
SOLD
View

2.3

2
Komfort
1
27,46 m2
SOLD
View

2.4

2
Deluxe
2
37,37 m2
SOLD
View

2.5

2
Deluxe
2
37,31 m2
SOLD
View

2.6

2
Komfort
1
35,63 m2
SOLD
View

2.7

2
Deluxe
2
37,19 m2
SOLD
View

2.8

2
Deluxe
2
48,66 m2
SOLD
View

2.9

2
Superior
3
74,96 m2
SOLD
View

2.10

2
Komfort
1
35,62 m2
SOLD
View

2.11

2
Deluxe
2
48,67 m2
SOLD
View

2.12

2
Deluxe
2
37,10 m2
SOLD
View

2.13

2
Komfort
1
36,02 m2
SOLD
View

2.14

2
Deluxe
2
37,25 m2
SOLD
View

2.15

2
Deluxe
2
37,32 m2
SOLD
View

2.16

2
Komfort
1
27,55 m2
SOLD
View

2.17

2
Deluxe
2
37,33 m2
SOLD
View

2.18

2
Superior
2
34,34 m2
SOLD
View

2.19

2
Deluxe
2
37,26 m2
SOLD
View

2.20

2
Deluxe
2
47,26 m2
SOLD
View

2.21

2
Deluxe
2
37,28 m2
SOLD
View

2.22

2
Deluxe
2
46,81 m2
SOLD
View

2.23

2
Deluxe
2
38,08 m2
SOLD
View

2.24

2
Komfort
1
27,30 m2
SOLD
View

2.25

2
Deluxe
2
37,31 m2
SOLD
View

2.26

2
Deluxe
2
47,28 m2
SOLD
View

3.1

3
Deluxe
2
36,83 m2
SOLD
View

3.2

3
Superior suite
1
58,80 m2
RESERVATION
View

3.3

3
Superior suite
1
42,35 m2
RESERVATION
View

3.4

3
Superior suite
1
60,03 m2
yes
View

3.5

3
Superior suite
1
59,15 m2
yes
View

3.6

3
Superior suite
1
49,78 m2
YES
View

3.7

3
Superior suite
1
63,94 m2
YES
View

3.8

3
Superior suite
1
62,20 m2
SOLD
View

3.9

3
Platinum
3
74,83 m2
SOLD
View

3.10

3
Superior suite
1
55,20 m2
SOLD
View

3.11

3
Superior suite
1
76,99 m2
GUARANTEED
RESERVATION
View

3.12

3
Superior suite
1
72,56 m2
SOLD
View

3.13

3
Superior suite
1
50,57 m2
GUARANTEED
RESERVATION
View

3.14

3
Superior suite
1
58,85 m2
SOLD
View

3.15

3
Superior suite
1
61,14 m2
SOLD
View

3.16

3
Superior suite
1
43,83 m2
SOLD
View

3.17

3
Superior suite
1
58,19 m2
YES
View

3.18

3
Superior
2
34,34 m2
SOLD
View

3.19

3
Deluxe
2
37,03 m2
SOLD
View

3.20

3
Deluxe
2
46,76 m2
SOLD
View

3.21

3
Deluxe
2
38,66 m2
SOLD
View

3.22

3
Deluxe
2
46,82 m2
SOLD
View

3.23

3
Deluxe
2
37,04 m2
SOLD
View

3.24

3
Komfort
1
27,30 m2
SOLD
View

3.25

3
Deluxe
2
38,66 m2
SOLD
View

3.26

3
Deluxe
2
46,91 m2
SOLD
View